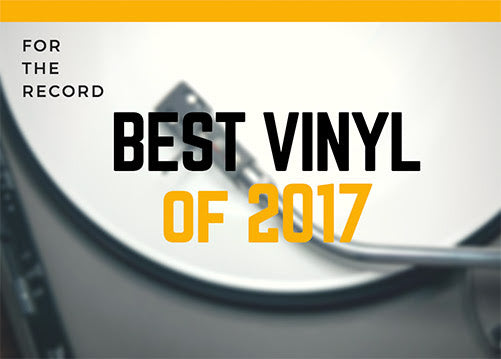 Best Vinyl of 2017
Every December,  magazines, websites, music bloggers, "social mediaites", and music fans all convalesce around one thing; "Best Of Lists". Blind Tiger Record Club is no different. Just like all of you that gather around tables at the local coffee shop or bars to discuss the best music of 2017, we have been laboring and debating our picks as well.

Before you jump into ours, here are the selection parameters we used that will help give context to the list. First, our list only considers music released on Vinyl. There are several projects that appear at the top of many "Best Of" lists that we did not consider because they were not released on vinyl in 2017.  
Second, although the albums were all chosen based on the music, we did use some of the aesthetic qualities such as album weight, multiple disc presentation, color variant, and album art to separate any close picks for the lists. Third, we chose these titles from our previous curated efforts throughout the year but juxtaposed them with editorials we respect. Fourth, you will see that our list is separated by genre. In most "Best Of" lists, all the music is put together. We opted to keep ours separated to better represent B.T.R.C. and the curated design we present in our Record Store. Lastly, these albums are presented in no particular order. All the albums on each list are considered one of the best  vinyl releases of 2017.    

So, without further ado, we are very excited to present the "Blind Tiger Record Club Best Vinyl of 2017"
Best Singer/Songwriter Albums of 2017
Robert Plant - Carry Fire
Jason Isbell & the 400 Unit - The Nashville Sound
Courtney Barnett & Kurt Vile - Lotta Sea Lice
Margo Price - All American Made
Hiss Golden Messenger - Hallelujah Anyhow
Julien Baker - Turn Out the Lights
Lilly Hiatt - Trinity Lane
David Rawlings - Poor David's Almanack
Drew Holcomb and the Neighbors - Souvenir

Best Alternative/AAA Albums of 2017
The War on Drugs - A Deeper Understanding
J. Roddy Walston & the Business - Destroyers Of The Soft Life
Portugal the Man - Woodstock
The Killers - Wonderful, Wonderful
The National - Sleep Well Beast
Manchester Orchestra - A Black Mile to the Surface
Cold War Kids - LA Divine
Beck - Colors
Dan Auerbach - Waiting on a Song
Best Rock Albums of 2017
Foo Fighters - Concrete & Gold
Queens of the Stone Age - Villains
Matt Mays - Once Upon a Hell of a Time
Royal Blood - How Did We Get So Dark?
U2 - Songs of Experience
Ryan Adams - Prisoner
Jd McPherson - UNDIVIDED HEART & SOUL
Nothing More - The Stories We Tell Ourselves
Benjamin Booker - Witness
Best Country Albums of 2017
Turnpike Troubadours - A Long Way From Your Heart
Tyler Childers - Purgatory
Steve Earle & The Dukes - So You Wannabe An Outlaw
The Cadillac Three - Legacy
Gregg Allman - Southern Blood
Chris Stapleton - From A Room: Volume 2
Little Big Town - The Breaker
Lee Ann Womack - The Lonely, The Lonesome & The Gone
Midland - On The Rocks
Lukas Nelson & Promise of the Real - Lukas Nelson & Promise of the Real

Best R&B/Soul/Blues Albums of 2017
Robert Finley - Goin' Platinum
Sister Rosetta Tharpe - Live in 1960
Fantastic Negrito - The Last Days of Oakland
Son Little - New Magic
Sharon Jones & The Dap Kings - Soul of a Woman
Curtis Harding - Face Your Fear