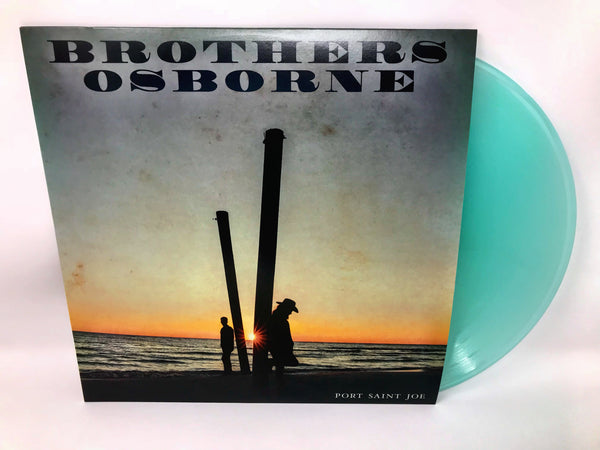 May's Record Store Spotlight of the Month - Brothers Osborne - Port Saint Joe (Seaglass vinyl)
John and T.J. Osborne make up the country rock duo Brothers Osborne. Mixing traditional and modern country & rock elements, T.J.'s baritone vocal delivery pairs perfectly with John's abilities on the guitar. Originally hailing from Deale, Maryland, the brothers have called Nashville, Tennessee home since the early 2010's when they signed a publishing deal with Warner-Chappell/King Pen Music. 
They released their debut single "Let's Go There" on Capitol Records in 2013, and followed it up with the hook-y, alcohol-infused "Rum" in 2014. "Stay A Little Longer", one of the band's biggest hits, arrived in 2015 and showcased John's guitar sorcery in the form of a three-minute solo closing out the song. Their debut album, Pawn Shop, was released in 2016. 
- B.T.R.C. - David W. Williams
Tracks
1. Slow Your Roll
2. Shoot Me Straight
3. I Don't Remember Me (Before You)
4. Weed, Whiskey and Willie
5. Tequila Again
6. A Couple Wrong's Makin It Alright
7. Pushing Up Daisies (Love Alive)
8. Drank Like Hank
9. A Little Bit Trouble
10. While You Still Can
What Critics are saying about Port Saint Joe...
"The follow-up to 2016's Pawn Shop, the record is an adventure in musicianship, showcasing guitarist John's intricate, crackling guitar solos and singer TJ's baritone vocals and slip-sliding cadence. While the album is as relaxed as the Florida beachside town from which it takes its name and where it was recorded – the sound of lapping waves open the LP"
Joseph Hudak, Rolling Stone, "Why Brothers Osborne Are Country Music's New Working-Class Heroes"