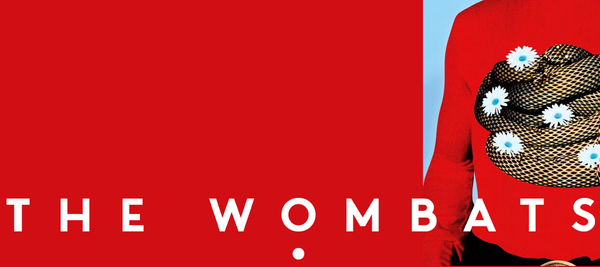 March 2018 Alternative Record of the Month - The Wombats - Beautiful People Will Ruin Your Life
Blind Tiger Record Club's Alternative Record of the Month - The Wombats - Beautiful People Will Ruin Your Life
If you haven't already heard of The Wombats, we've got you covered. The band formed in Liverpool, U.K. in 2003. Since its inception, they have released four studio albums. 2008's A Guide to Love, Loss, & Desperation, the band's debut, made a decent splash in the U.K.. The record reached #11 on the UK Albums Chart and went U.K. Platinum. It was nominated for three NME's that year (winning one) and was nominated for Best New Act for the 2008 MTV Europe Music Awards. A Guide did get to #20 on the Billboard Heatseeker Chart, but really didn't crossover to U.S. audiences.

Each release since, This Modern Glitch (2011) and Glitterbug (2015) have made more inroads into the U.S.. AltNation at Sirius XM has supported many singles by The Wombats, even topping the Alt 18 request chart in 2016. 

Beautiful People Will Ruin Your Life debuted at #3 on the UK Albums charts and #2 on Australian Albums. In the U.S., it broke into the Billboard 200 (190), and peaked at #20 on the Billboard Heatseekers Albums. 

The first U.S. single, "Turn", is currently at #38 Media Base, and has been receiving steady play at Alt Nation on Sirius XM. The album just came out, so it will be interesting to see if The Wombats can cultivate a serious U.S. following, but if you've never heard them before, you should really give the vinyl a spin. B.T.R.C. picked Beautiful People Will Ruin Your Life as the March Alternative Record of the Month. It's available through the club in a Limited Edition Clear Vinyl pressing. The band is described as "indie rock", "post-punk", "new wave", and "alternative".  Regardless of how you qualify them, Beautiful People Will Ruin Your Life is a really strong record, and we believe a really strong addition to anyone's Alternative collection.
Join B.T.R.C. by March 25th to receive The Wombats - Beautiful People Will Ruin Your Life in your first Subscription Box!
TRACK LISTING
1 Cheetah Tongue
2 Lemon to a Knife Fight
3 Turn
4 Black Flamingo
5 White Eyes
6 Lethal Combination
7 Out of My Head
8 I Only Wear Black
9 Ice Cream
10 Dip You in Honey
11 I Don't Know Why I Like You But I Do
What critics are saying about Beautiful People Will Ruin Your Life

"There's nothing groundbreaking here, but little to be ashamed of either. With their streaming numbers on a healthy incline and the venue sizes increasing with each tour, 'Beautiful People…' proves that there's still life in these marsupials yet."

Thomas Smith for NME, "The Wombats – 'Beautiful People Will Ruin Your Life'"