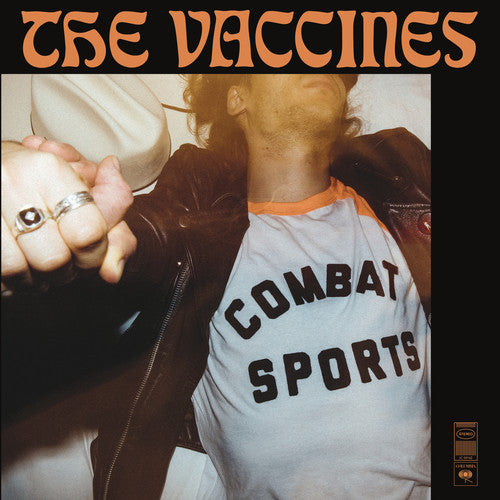 April's Record Store Spotlight of the Month - The Vaccines - Combat Sports (150G Vinyl)
 The Vaccines formed in West London in 2010. After working for a while to craft their sound, the band uploaded a demo of one of their early songs, "If You Wanna" to Youtube. The song took off. BBC radio host Zane Lowe (who's show helped usher in the careers of bands like The Killers) wrote on the BBC website in August of 2010 that ''The Vaccines 'If You Wanna' is like some long lost pop gem." He went on to describe it as "an instant vintage classic." 
Lowe wasn't alone in his early praise for the band. Publications like The Guardian and Clash Magazine were raving about The Vaccines after every show. They immediately started selling out shows. On March 11, 2011, The Vaccines released their debut studio album, What Did You Expect From The Vaccines?. The album was a success - peaking at #4 on the UK Album Chart. It went Gold in the UK that year and produced a couple of UK radio hits. The group won 'Best New Band' at the NME Awards. They were runners up for "Critics' Choice" at the BRIT Awards and were nominated for an MTV Award and 'Best Album' at the NME Awards.
The band's second studio album was Come of Age, released in September of 2012. This time, The Vaccines peaked at #1 on the UK Album Chart. It was also nominated at the next BRIT Awards as "Best New Artist" and "Best Live Act". They were nominated for "Best Album" at the NME Awards. 
English Graffiti, their third album, arrived three years after Come of Age. A lot had happened for the band in a relatively short period of time. The quick rise was followed by a luke-warm response to the release.  
The Vaccines came back punching with Combat Sports. The album is a return to power pop with garage band guitars. It was released March 30, 2018 on Columbia Records. It debuted at #4 on the UK Albums Chart. For many long time Vaccines fans, this album is more of a throwback to some of the sounds that were prominent on their first two offerings. Even if thats true, the songs are infectious and driving.  "I Can't Quit" is just a great guitar rock song. It's infectious and just plain fun. This was entirely intentional as the band wanted to make a fun album that better represented the live show. Frontman Justin Hayward-Young said in an interview with the Independent, "I always thought we were a great live band, so we wanted a record that would feel natural. It sounds enthusiastic. I think that's a reflection of how we were feeling when we made it" (Independent - Combat Sports: How The Vaccines bounced back with their best record yet - Roisin O'connor).  
If you happen to be a fan of The Vaccines, you will be pleased to see this return to their roots; so to speak. If you are discovering them for the first time, then this is a great album to start with as many really do feel its their best to date.
Check out the tracks "I Cant Quit", "Put On A T-Shirt", and "Surfing The Sky".
 B.T.R.C. - David W. Williams
TRACK LISTING
- Side A -
1 Put It on a T-Shirt
2 I Can't Quit
3 Your Love Is My Favourite Band
4 Surfing in the Sky
5 Maybe (Luck of the Draw)
6 Young American
- Side B -
1 Nightclub
2 Out on the Street
3 Take It Easy
4 Someone to Lose
5 Rolling Stones
What Critics are saying about The Vaccines...
"On their fourth album, The Vaccines return battle - scarred but buoyant... The result is a fourth album both back-to-basics in a Ramone-next-door sort of way, but with renewed purpose and attitude, and eyeing new paths of punk-rock progress."
Mark Beaumont - N.M.E. -
The Vaccines - 'Combat Sports' Review
 "I think that by now, we all know The Vaccines aren't actually going to save rock and roll, but as someone who has experienced the sheer euphoria of blasting some of these new cuts at a completely inappropriate level, I haven't given up hope quite yet."
Madison Desler - PASTE -
The Vaccines - 'Combat Sports' Review